---
Welcome to the unofficial Motel 9 fan site!

Before Limp Bizkit and Kid Rock. Before the Judgement Night soundtrack, and what is now known as "new metal" took over MTV. Before the Internet and reality TV, back in a day when bands made "demo tapes" and hand bills to promote themselves, there was a band called... Motlel 9.

In 1993, The band's idea was to start a sort of punk/hip-hop group with guys who could actually rap. Drop in some catchy rock metal riffs, turntables, heavy drum/bass and bang! RAPCORE! Lyrical content was important, keep it light and comedic. Dealing with basic shit like getting stoned and watching Star Trek, playing video games all night untill your eyes went numb. Spending your last $4.27 on a McChicken sandwich at McDonalds and then sneaking on the bus only to get busted by inspectors and have to walk two miles home in the snow (day-to-day Ottawa shit). The name was taken from the B-movie "Roadside Prophets" with John Doe "X" and Adam Horovitz "Beastie Boys". The band had a bunch of other names picked out like "Captain Kirk and the Away Team" and "Kevin Arnold" (the kid from The Wonder Years) but for some reason "Motel 9" stuck.

M9 did pretty good for their 2 year life. They appeared on the 4th ever episode of the original Tom Green Show on Rogers Ottawa, played countless gigs and festivals, shot a video and managed to record 2 EPs and a full length album. Only 5 songs from the album were released on the "Get Your Own Jos Louis" CD. The remaining songs have yet to be released but have recently been remixed as best they could considering the damaged (and now lost) reel tape. They are now available in the form on MP3s as well as the video for Creepshow 2 in the downloads section.

The band slowly parted ways in the summer of '95. This site has been created for fans new and old. We are curently tracking down the members who are scattered all over the continent, from San Francisco to Florida, to Ottawa, Vancouver and Victoria, Canada. Interviews are taking place and will be posted upon completion!

This site is dedicated to the memory of Scott Bristow, the band, and eveyone who supported Motel 9.

Any flyers, bootleg audio/video, t-shirts and designs of any kind can be sent to the site for posting. For M9 stories and hate mail visit the message board. We're still looking for M9 and Middle Finger (M9 side project) on The Tom Green Show. If anyone has a copy please contact us so we can post it. There is still a lot of material that never got recorded and is out there on someones bootleged video/cassette.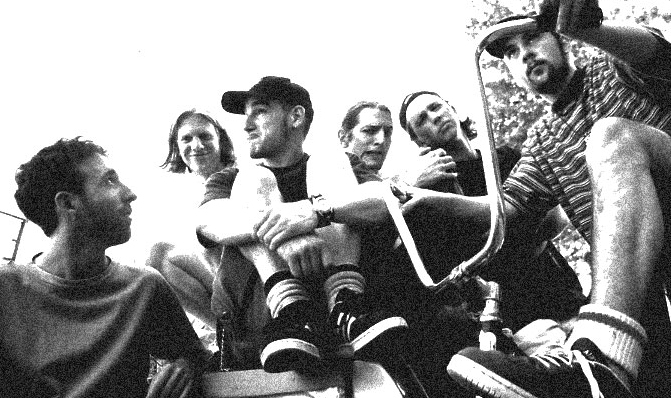 Motel 9 from left to right:

Pascal Edwards (drums), Oliver Marsh (guitar), Donny (bass), Steve Webb (vocals), Derek Bernard (vocals), Rob Solo (turntables)
Sign up for the

Ottawa Bands from the 1990's Mailing List

to find out when this site gets updated!



Help keep the content on this site free! If you appreciate what we are providing, send us a buck or two!
---